Textile Design Students at the Heimtextil Fair in Frankfurt
A group of Metropolia's Textile Design students spent a week in Germany, at the Heimtextil fair in Frankfurt. The students participated in the planning and implementation of the Micro Factory and Feels Like Home segments of the Campus exhibition.
The Digital Textile Micro Factory was implemented in cooperation with Leeds College of Arts (England) and The Strzemiński Academy of Art Łódź (Poland). The segment led visitors through the entire line of textile production from design to manufacture (printing, cutting and sewing). The project was coordinated by DITF Denkendorf, which is part of Europe's largest research institute in the field of textiles:  German Institutes of Textile and Fiber Research Denkendorf. Metropolia's part was related to the DigiPrintNetwork project that examines digital printing technology from different perspectives. Visitors of this segment received textile products printed on site as gifts.
Textile Design student Alfhilda Törmänen writes the following about her experience at the fair and about the Feels Like Home segment:
The fair is one of the largest and most important purchase and sales events in the textile industry. The industry's biggest companies, agencies and individual pattern designers present their collections at Heimtextil. Technology is also on display, for example the latest innovations in digital printing and other devices required in the manufacture of textiles.
The free lectures covered topics from anticipating the future to megatrends, colours, materials, technology and business. An entire area named "Theme Park" was dedicated to trends, where innovative materials and techniques were displayed in anticipation of future seasons.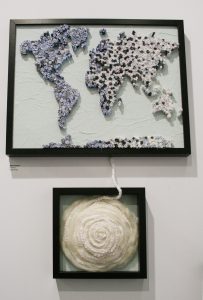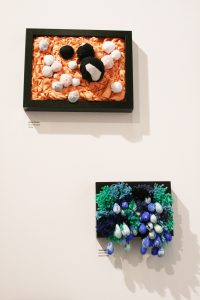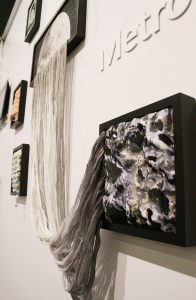 Feels Like Home segment
The Campus exhibition by educational institutions offered something different. The participating institutions came from Central Europe and China. Some displayed textiles made by a student as a final thesis project, others (like Metropolia) displayed collections of work from several students related to the Mobile Home theme. It was extremely inspiring to see the different ways of approach to the theme, which made the Campus exhibition the place where energy, creative adventurousness and innovation where most apparent.
Our segment was called "Feels Like Home". The participants chose a memory, emotion or texture, and the various ideas were refined into a coherent whole using different styles, techniques and a limited colour palette. Our segment was well received and gathered many positive comments. It was perceived to be Scandinavian, simple and stylish, and it really did stand out visually. We also stood out by presenting students as designers; the other segments were mostly presenting the institutions themselves. The feedback from the visitors and fellow students, as well as the contacts made in Frankfurt, opened many doors to venture through in the future.
In addition to these two displays, Metropolia students were present at the fair by running a café. Second year Textile Design students implemented the Happy Little Coffee Shop concept at the Microfactory segment. The concept was based on Finnish café culture.